Taking conceptual music to new heights, Madness is the new album from Harrison Stafford (aka Professor), lyricist and front-man of international roots reggae-jazz fusion group Groundation. The album was written during Stafford's travels through Israel and the West Bank in 2010 and was later recorded in Jamaica with a crew of legendary figures in roots reggae music. This is a conscious attempt by an American Jewish roots reggae musician to experience first-hand what life is like for those suffering in the Holy Land, and to channel those experiences through the medium of music. The result is an inspiring, much-needed musical treatment of an issue with great cultural and historical significance. Lyrically and conceptually groundbreaking, Madness is a profound musical meditation on the world's most interminable conflict.
*Link to Z Magazine article featuring Harrison Stafford:http://www.zcomm.org/groundation-by-collin-harris
*Visit www.reggaeprofessor.com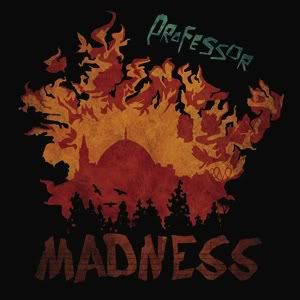 The New Project from Groundation Frontman
Harrison Stafford

Madness
Songs from the Holy Land
Street Release: May 17, 2011
Madness is what comes when injustice and fear are allowed to fester and seep down through the generations. Written while traveling through the West Bank & Israel in 2010, Madness, the album, is one man's attempt to reconcile thousands of years of history and religion that have flowed through the region and now feed into the current untenable situation in Israel/Palestine.
Harrison Stafford, Groundation lyricist and front-man, made his recent pilgrimage to the Holy Land in order to connect with his own family's history and to try and find common ground between both sides of the conflict. Though he experienced a dizzying array of different views and positions, he came away with the clear realization that there are in fact no "sides" to this conflict—that we are all in fact on the same side, with the same goals and aspirations of peace and prosperity, and with a common cause to see a resolution that provides justice and dignity for all peoples involved.
For a project of this scope and scale, Stafford brought together the legends of Reggae music—music long-heralded for its commitment to justice and righteousness. Leroy "Horsemouth" Wallace ("Rockers", Burning Spear), Flabba Holt (Roots Radics), Dalton Brownie (Augustus Pablo, Mutabaruka), Lloyd "Obeah" Denton (Israel Vibration, Horace Andy) are the players of instruments, while Winston McAnuff, U-Roy, Bernard Collins (The Abyssinians) & Ashanti Roy (The Congos) all lend their voices to this instant-classic of an album, a new chapter in the heavy one-drop evolution of Roots Reggae.
But the centerpiece here is Stafford's own revealing words and lyrics—which cut to the heart of the conflict and lay bare both the differences and commonalities of peoples who's history, and future, are irrevocably intertwined.