Thousands of teachers and other school personnel rallied outside in the West Virginia Capitol on Monday, where union officials announced that the first-ever statewide walkout underway would continue for a fourth day.
"Our teachers and our public employees are getting less in pay per year every year, and people are fed up and fired up about it," said Morgantown High School art teacher Sam Brunett at a candlelight vigil Sunday outside the Capitol.
The strike, which began Thursday, is indeed historic. (A nearly statewide strike took place in 1990.)
The current action is taking place throughout the state's 55 counties, which means roughly 20,000 teachers are taking part.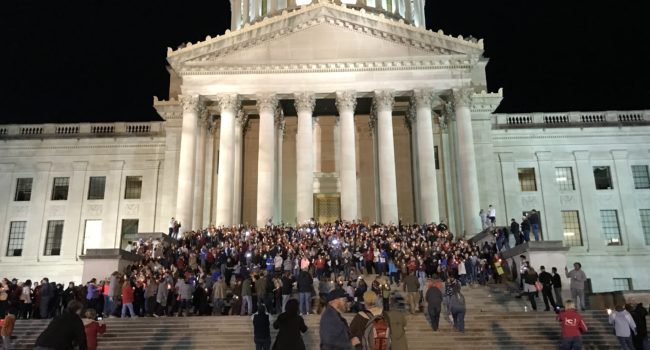 West Virginia Public Broadcasting explained the reasons for the strike thusly:
Leaders of teacher unions and their members are calling for salary increases, a permanent fix to healthcare through the Public Employees Insurance Agency and a stop to legislation on what they call attacks on seniority. They are also hoping lawmakers will walk away from a bill known as "paycheck protection" that would make union members opt-in yearly to have dues withdrawn from paychecks.

West Virginia ranked 48th in the nation for average teacher pay in 2017.

While Gov. Jim Justice has signed Senate Bill 267 calling for a salary increase of 2 percent this year with an additional 1 percent increase the following two years, teachers and their union leaders say that's not enough — especially considering teachers were offered a 2 percent increase last year in more economically troubling times.
The West Virginia Center on Budget & Policy tweeted that the legislation "is not enough to keep with inflation":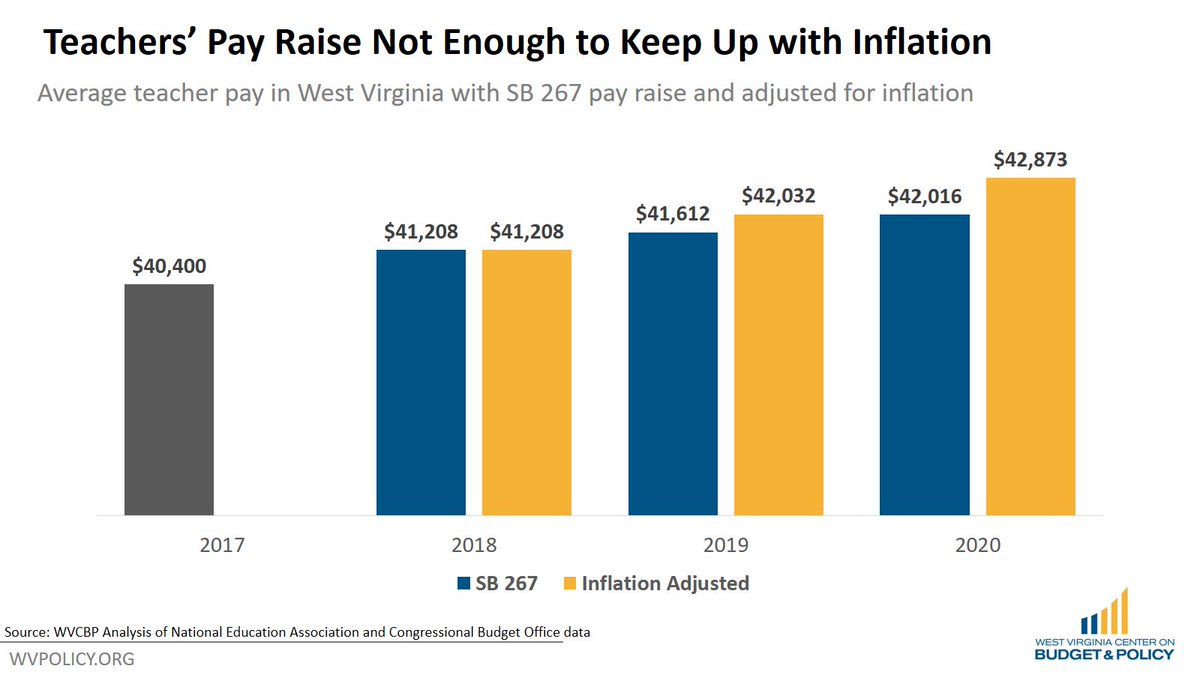 Speaking to CNN at the Sunday night vigil, Jacob Fertig, an art teacher at Riverside High School in Belle, in Kanawha County, laid out what the pay means in real terms: "You know, as a professional degreed teacher, working two jobs, I qualify for WIC and food stamps."
Randi Weingarten, national president of the American Federation of Teachers has said the teachers "are engaged in a righteous and fundamental American values fight for dignity and respect."
At the rally Monday, Dale Lee, president of the West Virginia Education Association, said, "We still have a lot of work to do."
"We will be on the picket lines and be back at the Capitol tomorrow. Make sure they hear your voices."
I respectfully disagree with those who say that our children aren't learning during the work stoppage in West Virginia. To the contrary, they're learning how to stand up for what they believe in. #55Strong #HoldTheLine