The following is an attempt to list most of the actions, events and protests as part of the "Reclaim your Education – Global Week of Action" [20 – 29/04] around the world. I expect more reports to be coming in within the next few days. So far groups in 46 cities in 15 countries on 4 continents sent in reports about their protests and actions.

————————————–

~ 20/04/2009 ~

Heidelberg (Germany)

d e m o n s t r a t i o n
More than 500 students and pupils kicked off the Global Week of Action with a demonstration through the old town of Heidelberg followed by a general assembly on campus.
They called for a ban on tuition fees, free access to education for all and democratic participating procedures within all decision making processes at all level within university.
The problems of the students were also linked with the problems of workers, unemployed and pensioners.
A lot of pamphlets were distributed and people informed about the Global Week of Action. At some touristy places speeches were also held in English to inform tourists about the purpose of the demonstration.
Source: de.Indymedia.org
Münster (Germany)
Activists began the week by setting up a sound system on campus and distributing flyers on the whole campus informing about the Global Week of Action. Later that day street theater was performed to raise awareness.
Programm for the full week: bildungsstreik-muenster.de (in German)
Source: de.Indymedia.Org
Hamburg (Germany)

l o c a l W e e k o f A c t i o n
As part of the Global Week of Action activists in Hamburg arranged a local week of action at their faculty for pedagogics, sports and psychology. The slogan of the week is "think global, act local". That particular faculty was especially hard hit by recent budget cuts. Their budget was reduced by 11%. Since today alternative seminars are taking place broaching the issue of "public education as a public good", as well as teaching poster printing skills in workshops, as well as discussing anti-pedagogical approaches. Various activists were recruited for the "campus army", who are now visiting seminars wearing white masks and asking all students to be obedient, consume the content they are being taught without questioning it and most importantly not to join the protests. Some seminars were spontaneously held in public spaces. One was attended by 50 students and deemed illegal by the police. Consquently the professors details were recorded and 6 students received a complaint + a banner was confiscated.
There is a soup kitchen on campus for each day of the week of action providing delicious vegan and vegetarian meals.
Media report: taz.de

Source: de.Indymedia.org
Tampere (Finland)

The day began with lowering a banner from the rooftop of the university, followed by a welcoming speech and everyone entering the university. There were several dozen participants. Societal songs were sung inside the university. Actions executed by the student movement in Tampere and elsewhere in Finland were presented. There was a discussion on which themes the student movement should grab in the future, both inside and outside universities. Students' monetary situation and basic security matters were also discussed, as well as the administration of spaces at university and general societal situation. After the opening of Global Action Week documentaries were shown as a basis for discussion. The chosen documentaries were "The Potentiality of Storming Heaven", "Money as Debt" and "Good Copy/Bad Copy".
"University belongs to Everyone" in Finnish
Source: E-Mail
Zagreb (Croatia)

o c c u p a t i o n
The Independent Student Initiative for the Right to Free Education has organized a peaceful occupation of the Faculty of Philosophy. The occupation has been initiated as a mean to promote their demand for free education for all. They have stopped classes and exams, and have organized various lectures, discussion and movie screenings instead of normal classes. They'll be translating some of their press releases in English and German, to make the information about the occupation available to others outside the region. Right now, their materials are only available in Croatian, at this web page: slobodnifilozofski.bloger.hr
Video, unfortunately only in Croatian, is available here.
An article in English can be accessed here.

The action seems to get a lot of media coverage in Croatia.
The occupation still continues!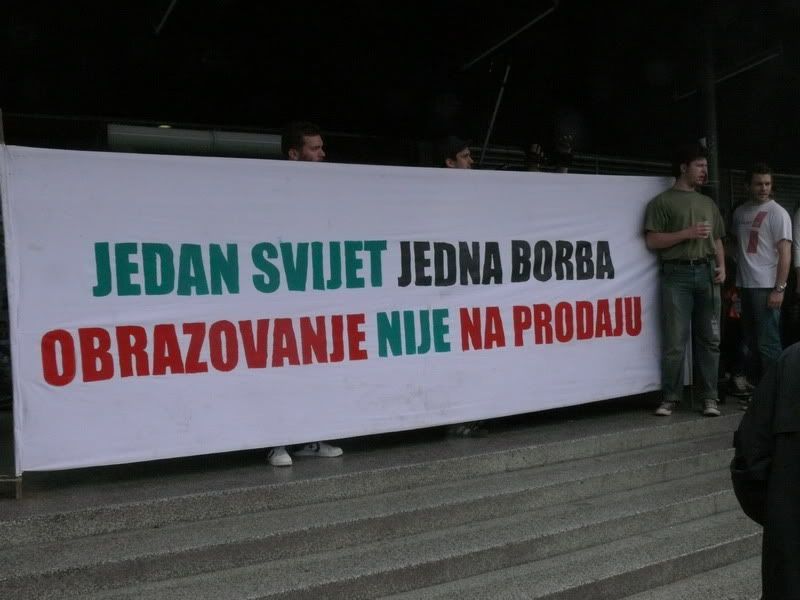 "One World One Struggle, Education is not for Sale"
in Croatian
Salzburg, Innsbruck, Linz, Bregenz, St. Pölten, Klagenfurt, Burgenland (Austria)

d e m o n s t r a t i o n s
A day of action took place in various cities across Austria for better conditions and more financial assistance for the public education system. "Bail out Education – not Banks" was the main slogan. The government is threatening to cut the budget.
Salzburg: Almost 3,000 students and pupils gathered there, also protesting against the "Bologna process". Students were calling for international solidarity among the different movements struggling against the commercialization of education around the world and demanded free education for all. (More info & pictures: at.indymedia.org [in German])

Innsbruck: 1,200 students protested here.

Graz: According to media reports 500 pupils joined the demonstration.
Bregenz: Apparently 500 people also joined the demonstration here.
Linz: 400 people took to the streets here.
St. Pölten: Hundreds joined a rally to protest for better education policies.
Klagenfurt: Around 150 pupils gathered here to protest.
Burgenland: As part of the day of action a media gimmick was arranged.
Source (with video): Salzburg.Com and at.indymedia.org (both in German)
Sabadell (Catalunya; Spain)

o c c u p a t i o n
In addition to actions held by current university students regarding the implementation of the Bologna Process in Catalonia, groups of college students, those facing a future crippled by the privatising reforms, are mobilising. This week, a campaign of college occupations is occurring in the Catalan territories, organised by student assemblies. Around 100 students from four colleges in Sabadell (near Barcelona) passed the night in l'Escola Industrial college in the centre of the city. They slept in the patio because the headteacher wouldn't let them in the building, and thus avoided eviction. The occupation was organised with different events scheduled over its three day duration. The purpose of the action was to make the teaching institution an informative space, since information regarding the educational reforms is being blocked from those affected.
Source: interuni-bcn.blogspot.com
~ 21/04/2009 ~

Tampere (Finland)

The student movement served f